---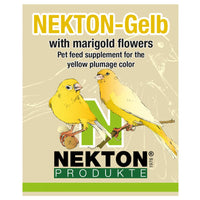 Vitamin Supplement for Yellow Coloration in Birds

NEKTON-GELB is a vitamin supplement to brighten colors, enhance plumage and prevent colors fading.

Feathers are given their colors by the deposits of carotenoids, red and yellow pigments/lipochromes, found in plants and the fatty tissues of animals. Although the deposits are minute they are spread over the whole surface of the feathers creating the various shades. Carotenoids are the most widely distributed pigments in nature and are found in all parts of plants, even in the green parts, where they are overshadowed by the preponderance of green chlorophyll. The bird is not capable of synthesising carotenoids by itself which means these color pigments must form part of the dietary intake.

The nature-identical carotenoid Apo-8-carotenoic acid ethyl ester gives the yellow shades a strong and brilliant hue. Add to nestling or egg food, or to drinking water, at the beginning of the moult until a full set of new feathers has grown in.

In order to help a bird through this time of pressure and strain and maintain health, which also reflects in full and shiny feathers, the carotenoid has been added to a basic formula of important vitamins, essential free amino acids and a combination of macro and trace elements.